Outback Power Systems -- Clever electric power inverter combiner boxes make it a snap to install.
Xantrex TR Series Inverters from Schneider Electric -- Extremely versatile modified sine-wave inverter, designed for prime power systems, utility back-up, RV and industrial applications. From 1500 to 3600 watts continuous power rating. Up to 12,000 watt surge capacity.
Xantrex Sinewave Series Inverters from Schneider Electric -- This revolutionary inverter is the one making the utilities cry "Uncle!"! Pure sine-wave power, grid-interactive capability, high surge capacity, low idle current and varied programmability make it one of THE most desired components for on-grid interaction as well as remote applications.
Solar Modules Specs -- We have more modules than we can list, so if you don't find the one you seek here, drop us a line or give us a call. Offerings include Kyocera, Sharp, BP Solar (formerly Solarex), Zomeworks, and more.
Regulators and Controllers -- New technologies are getting the most out of your solar modules, while preventing battery overcharge. Product line includes Xantrex, Morningstar, Heliotrope, Specialty Concepts and more.
Mount Structures and Trackers -- Whether you need a flush mount for your RV or a 10 module tracker for your remote home, we can find the right mount for your project's solar panels.
Wind Generators -- While very site specific, wind generation can be a valuable addition to the battery charging scheme, or even as a source of primary power. Click here for information about residential wind power.
Bergey Wind Generators -- Power your home with a reliable, heavy duty Bergey wind turbine. Five year warranty, high power output. 1K to 10K units available.
Batteries -- The heart of a remote off-grid power system. Several brands are offered and basic maintenance information is listed.
Solar Fence Charger and Solar Fire Ant Eliminator -- Dependable solar products you can rely on for livestock fencing and insect control.
RV or Marine Solar Electric Power Systems -- Solar electric power is SO easy to add to your RV or boat--it's already set up for 12V power. These systems will also work great on your remote cabin's roof.
Composting toilets -- We are now offering a line of Sun-Mar composting toilets, from ones that use no electricity or water and are self containing to those that use a little water and some electricity and utilize a centralized composting bin that can accept multiple toilets.
Related Renewable Energy Links--Information about solar incentives, financing renewable energy power projects, energy information newsletters to subscribe to, solar power info, data on EVs, efficient appliances, healthy and low energy home-building, surplus products and more are a few of our links, just a click away!
Used & surplus bulletin board -- FREE LISTING here for the alternate energy goods you may want to sell; or, if you're looking for a bargain, CHECK IT OUT! Please, no commercial listings. Goods include solar panels, wind generators, energy efficient appliances, etc.
About Oasis Montana, Inc. -- Who we are and what we are up to. Check out our Spring 2014 newsletter. See what other people say about us, or see our latest office PV project!
E-mail subscription Contact us Who We Are Testimonials Related links Archived Newsletters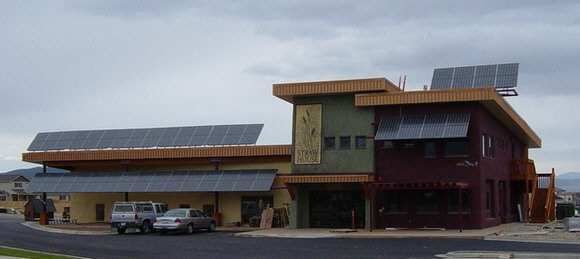 Straw House Market - Helena, MT

TO ORDER A CATALOG:


We offer a Solar Electric Design Guide and 150 page Product Catalog for just $10.00 on CD.

System sizing, wind and gas generators, solar modules, wire size, DC vs. AC, batteries and charging, efficient appliances are just some topics covered in the information we send you. If you have a particular interest (inverters, modules, efficient refrigeration, propane appliances, etc.) let us know! Please call 406-777-4321 or 4309 local line, or 877-627-4768 or 4778 toll-free, 406-777-0830 fax, or e-mail us at info@oasismontana.com to order this information.

If you're looking for something you just can't find, please drop us an e-mail or call; chances are we can get it for you or give you a source where you can find it. We also offer more products than are covered in these pages, so please don't hesitate to contact us if you have any questions or concerns about your alternate energy project.

THANK YOU FOR VISITING OUR SITE--now, don't be in a hurry. Feel free to stay a while and learn!

Email Webmaster to report problems with this site.